​
​
​
​
Our June meeting
[June
7,2017] was devoted to increasing our participation in local airport activities. We always participate in Airport Day at the San Luis Obispo Airport in October, but we should not forget that San Luis Obispo has three airports. We do not have any members who fly out of Paso Robles, but we do have members who are active at Oceano Airport. 
​
​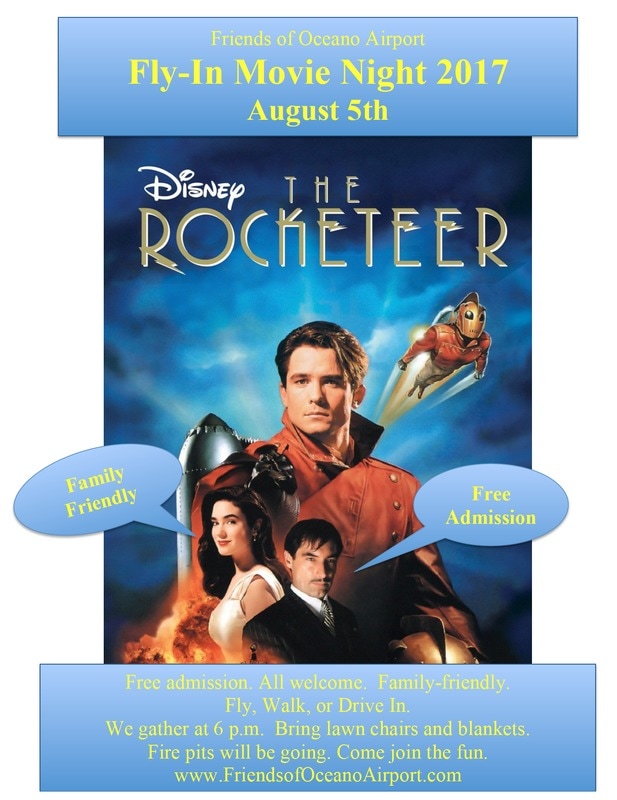 ​
​
Jolie Lucas has worked for years to make our local community aware of the benefits of our little airport. We raised some money for our scholarship program at the Oceano Airport Celebration in May and will be able to do the same August 5 at
Movie Night
. The movie will be
The Rocketeer
which was filmed in Santa Maria. We will be selling desserts: Strawberry Shortcake and S'Mores to the people attending. Hopefully, there will be plenty of people and they will be able to learn more about the Ninety-Nines. It will also be our monthly meeting. In December we hope to resurrect our Poker Run and combine it with the Toys for Tots event. We will be hosting the BBQ and Oceano will be our final stop for the Poker Run, we will need volunteers to help with the BBQ, to put the card envelopes together, help plan our route and get the envelopes out to the airports we decided to fly to. Our hope is that by combining our efforts with those of the Friends of Oceano Airport will increase participation in both events.
​
​
​
​
We will be featuring
"
The
Life and Times of Elizabeth Dinan
" at our July meeting. Elizabeth has been flying since the age of  17. She has been honored by the FAA as a
"Master
Pilot" and has flown more aircraft than most of us will ever see! She has promised to bring some scrapbooks and talk to us about her experiences as a pilot! I have heard, from another source, that her stories are VERY entertaining!
​
​
​
​
Elizabeth Dinan is also working with
James Ure
, author of the book
"
Seized
by the Sun: The Life and Disappearance of World War II Pilot Gertrude Tompkins
".
He will be in our area on August 9 and 10 and during a tour of local museums and would like to speak to us and anyone else who might be interested in his book. He has offered us a percentage of the proceeds for any of the books sold during the presentation. We are looking for a venue and will be inviting members of the EAA and general public as well
[
talk
will be held on August 9th at
SunWest Aviation
, 835 Airport Dr., time t.b.d., the ed.
].
​
​
Tonight a small group of us 99's went to Dorothy Rooney's home in Los Osos to celebrate her 99
th
birthday!
[
see
photo at the top of the page
] Dorothy was a WASP during WWII, it was an honor to meet her and spend time with her. It certainly seemed appropriate that she should be with 99's for her 99
th
!          
​
​
​
​
Comments, corrections, and suggestions are welcome. Fly-outs: any dates are flexible and we will confirm plans and set times at the chapter meeting before the scheduled fly-out. Seats will be available for non-pilots, students, and pilots without wings. We want every seat to be filled, so let us know if you want to come along.
​
​
​

​

→

Elizabeth Dinan will talk about her flying life.

​

​

Fly-In Movie Night

, Oceano Airport L52. 

​

​

Free admission, all welcome, family friendly, bring your lawn chairs and blankets. Popcorn, drinks and snacks available.

​

​

Time t.b.d.

(please

monitor the mailing list)

​

​

Poker Run.

Details t.b.d.